Celebrating Half a Century of Legal Service & Success
The Ohio State Bar Association awarded our very own founder and partner, Richard Fleischer of The Fleischer Law Firm LLC, for his 50 years of service as an attorney and counselor of law. We are so proud of Richard's tireless dedication to helping clients achieve their immigration goals and feel humbled to work alongside him.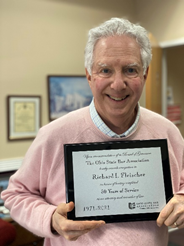 This is a milestone that only a fraction of lawyers can reach. It takes a distinct level of passion and commitment to earn a 50-year track record as our attorney has.
Since 1971, Richard Fleischer continuously set high standards for himself in all areas of immigration law, including immigrant and non-immigrant visas, naturalization, deportation, and asylum, to name some. As a result, the OSBA Board of Governors recognized Richard for his five decades of legal service, which is a big deal.
This is one of many accolades Richard has won over the past 50 years. He was named an Ohio "Super Lawyer" from 2006 to 2019 by Law & Politics Magazine and the publishers of Cincinnati Magazine, as well as a "Leading Lawyer" by Cincy Business Magazine.
Experience What 50 Years of Experience Can Do for You
An experienced lawyer is key in your immigration journey, as they have the insights and resources required to help you achieve your American Dream. Imagine what a lawyer with 50 years of experience can do for your case. With this in mind, you can trust The Fleischer Law Firm LLC to represent your rights and champion you throughout your case.
To speak with us about your immigration matter, contact us at (513) 880-9969!